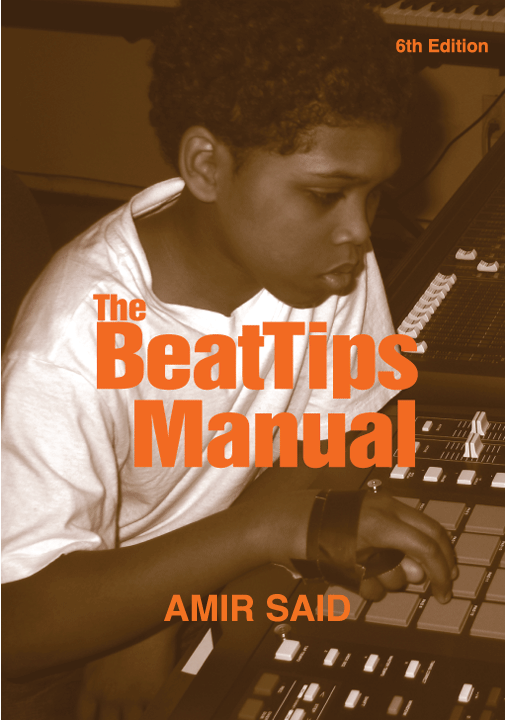 The BeatTips Manual
Beatmaking, the Hip Hop/Rap Music Tradition, and the Common Composer
6th Edition
by Amir Said
Beatmaking is a rich and very meticulous art-craft. It contains a number of unique methods and practices, each potentially more complex and challenging than the other. The BeatTips Manual breaks down the complexity of beatmaking and hip hop/rap production, and erases all of the myth and mystery.
The BeatTips Manual is brilliantly divided into five primary parts—an absolutely stunning History part; an extensively detailed and robust Instruction part, which covers everything about making beats from drum programming to composition and arrangement; a Music Theory part; a Business part; and an explosive Interviews part, which includes exclusive interviews with DJ Premier, DJ Toomp, 9th Wonder, Marley Marl and more. A groundbreaking study of hip hop/rap music's chief compositional process and its tradition and culture, The BeatTips Manual is the definitive book on beatmaking and hip hop production.

DIGITAL VERSION
PDF
File Size: 8.5 MB
Print Length: 493 pages
Publisher: Superchamp Books
ISBN: 978-0-9749704-6-2
Price: $9.99
Digital Download Available Instantly!


HARD COPY (PRINT VERSION)
Paperback: 493 Pages, 7x10 (3.5lbs.)
Publisher: Superchamp Books
ISBN: 978-0-9893986-0-2
List Price: $44.95
Sale: $34.99
Temporarily Out of Stock
(Instant download available above)
U.S. S&H: $5.95. U.S. orders typically received within 3-5 business days.
International S&H: $23.95. This is the actual USPS Priority Mail shipping rate. International Orders typically received within 7-10 business days.